Green Focus is a collaborative company of skilled freelance photographers chosen for their professional attitude and a portfolio that mirror your requirements. The core team at Green Focus remains constant throughout all bookings ensuring you receive a consistent welcome when you return time and time again.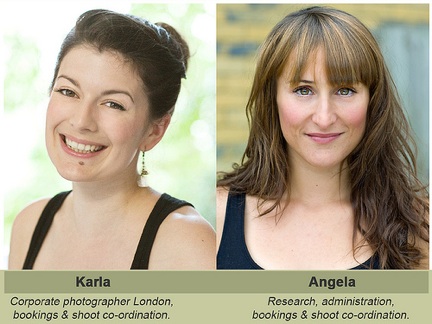 Karla is a professional freelance photographer based in central London. Along side her corporate photography service she also provides publicity photography for performers. Specialising in reportage photography, Karla has an unobtrusive approach and enjoys corporate assignments capturing the atmosphere of the whole event. She also enjoys a very hands on approach in Green Focus and will be at hand throughout your booking. 

Angela has worked with Karla for a number of years taking care of the administration side of her photography bookings and is always a friendly voice at the other end of the phone. Angela is professional performer and not only runs her own company but also performs as a solo artist throughout the UK.

Who we do it with:

Hand picked photographers - Our chosen photographers are not only skilled professionals but are also chosen because they're nice and easy to work with. Although we enjoy a challenge we prefer these to be of a positive kind and strife to only book talented photographers that compliment your day with their presence. 

How we do it - How Green is your Green Focus Booking?

Green Focus is based in central London but can book photographers for your town, and city ensuring that suitable local suppliers are contacted in the first instance. If it is necessary for a photographer outside your town or city to be hired they will use public transport for the booking and/or a donation to carbon off-set the additional travel will be made by Green Focus.

All photography bookings are processed through email and phone – so there is no paper trail. Invoices, briefs, confirmation… It is all dealt with without needing to cut down a single tree!

On your photography booking your photographer will only use rechargeable batteries.

The majority of shoots take place on-location. If any additional equipment is needed, then these items are hired.

Soft-proofing - an online gallery is included for all photography bookings. You may select your favourite photos, rate them and add comments with you PR team. You may also share your event gallery with your guests and downloadable images may be purchased by them for their own use.

Bookings receive the high resolution digital files via a bulk download link. Bookings with a more than 1GB of images will receive a Bamboo USB flashdrive included in their booking. Bamboo is a truly sustainable product source. Once it is cut down it regrows completely within three months. Plus you can also reuse the USB flashdrive for any future projects as it is so pretty you really wont want to throw it away.

Everyday Green Focus 

Not only do we ensure that your photography booking is eco-friendly, but at the Green Focus base we continue to ensure that the whole business is ran with the environment in mind.

All the bulbs we use are energy saving daylight bulbs and no equipment is left on standby at any point.

We advertise through social networking sites and provide quarterly online newsletters to subscribed clients and interested companies – so you will never receive any junkmail through the post.

All travel is done by public transport, using a local environmentally friendly Hybrid car service or a local taxi firm.

No prints are included in any of the packages. If a print is requested post-shoot this is completed by a professional print establishment using inkjet inks – so no paper wastage and less power use.

The Green Focus utilities are all billed as paper-free.

Post and junkmail are recycled -  we keep nothing but receipts for the accountant!

Green Focus is furnished with second hand items from online sites and picked up from people based in the local area.

Helping Green Focus:

Fixation – At Green Focus we love Fixation as they look after our cameras. They give them a clean, fix them when they're ill and have fantastic range of refurbished second hand goods if they need replacing. They also hire out equipment at very generous rates.

Green Tomato Cars – A environmentally friendly car service that uses the Toyota Prius, a hybrid car that splits the power system in two halves. It has an electric motor and a petrol engine that operate in tandem throughout the journey. It also boasts the worlds first plug-in Hybrid taxi! It is always such a smooth, quiet ride and there is Wifi in the car. On their site is a fancy emissions calculator where you can see how many emissions are used in a car, black cab and with Green Tomato Cars for your journey. Plus they are a lot cheaper than the others too!

Freecycle – If you haven't heard of Freecycle yet, we are proud to be the first to tell you! The worldwide Freecycle Network is made up of many individual groups across the globe. It's a community of people who give (and receive) items for free in their local areas. Freecycle matches people who have things they want to get rid of with people who can use them with the main goal to keep usable items out of landfills. "By using what we already have on this earth, we reduce consumerism, manufacture fewer goods, and lessen the impact on the earth." Freecycle!

Gumtree – Needing little introduction, Gumtree has become a first point-of-call for many! We love searching on here for items to buy and always use Gumtree to sale previously purchased items – so not only does out furniture continue to be used, but we always receive back what we paid for it!

Ecoincentives – New to Green Focus, Eco Incentives bring a fresh approach to promotional merchandise, supplying promotional items and business gifts that are ecologically sound and environmentally aware. Although we want to reduce the amount of waste possible – so will not be purchasing branded pens, mouse mats and tea-cups – our Bamboo USB flashdrive are fantastic! Eco Incentives make promotional products made from recycled, organic, sustainable or ethically sourced materials.

What next is in mind?

There are always more ways to decrease wastage! Here is what's next on our 'To Do' list:

Solar-Panels - We are currently looking into solar paneled chargers so that our London photographers have the ability to recharge their laptops, batteries, mobiles etc in an eco-friendly way while photographing the job!

Green Energy Supplier – This is very high on our priorities! Although our current energy supplier is doing rather well ecologically, we feel that others are offering a far better deal to the environment. Ecotricity is currently the favourite but there is also interest in Green Energy and Good Energy … So many choices! 

Do you have any suggestions you'd like us to consider? It would be great to hear from you!

Green Focus provides a fresh look at photography services and was started by Karla, an experienced corporate photographer based in central London. Karla has photographed the Lets Recycle Awards for Excellence over the past four years and inspired by the dedication and ingenuity of the finalists felt compelled to examine her own profession. Green Focus uses local photographers with a green process so your company receives high quality photography at little cost to the environment. 

All our photographers are handpicked for their quality, professionalism and attitude. Each have been trained to use the Green Focus process to provide you with a seamless service anywhere in the UK. You may be confident that regardless of your photography requirements we will be giving you the highest, greenest service! Our focus is for you to receive high quality images for your company, while helping you achieve your eco-friendly targets around the UK and abroad.